Coronavirus
now browsing by category

Reproduced from original article:
https://articles.mercola.com/sites/articles/archive/2020/05/28/vitamin-d-levels-at-home.aspx
STORY AT-A-GLANCE
Stay-at-home recommendations may have been a bad idea. In New York, 66% of new hospital admissions for COVID-19 were individuals who had been sequestering at home

Chinese researchers have noted that a majority of outbreaks in the 320 municipalities reviewed were the result of indoor spread of the disease, with the home accounting for 79.9% of cases

It's well-known that vitamin D is important for innate immunity and that it boosts your immune function against viral diseases. Growing evidence suggests your vitamin D status may also play an important role in the development of COVID-19, as well as the severity of the illness

Vitamin D concentrations are lower in patients with positive PCR (polymerase chain reaction) tests for SARS-CoV-2, and countries with lower vitamin D levels have higher mortality rates from COVID-19

Recent research also shows vitamin D levels are strongly correlated to the severity of the illness experienced
Recent scientific papers have highlighted the role vitamin D may be playing in the COVID-19 pandemic, especially in severe cases. Considering researchers have also shown that SARS-CoV-2 is rapidly inactivated by sunlight,1 areas that are banning people from parks and beaches, are undoubtedly committing a grave error.
Social Distancing Is a Miserably Failed Experiment
Stay-at-home recommendations in general may also have been a bad idea overall. Indeed, New York Gov. Andrew Cuomo stated,2 May 6, 2020, that 66% of new hospital admissions for COVID-19 were individuals who had been sequestering at home.
A majority of those cases were also minorities such as African-Americans, who are far more prone to vitamin D deficiency due to their darker skin.3 When Cuomo first heard about it, he said he immediately thought maybe people had been going out in spite of the shelter-in-place order, and maybe taking public transportation.4
In actuality they were all at home where they were supposed to be. Interestingly, Dr. David Katz, president of True Health Initiative and founding director of the Yale-Griffin Prevention Research Center, predicted5,6 this would happen.
Chinese researchers have also noted that a majority of outbreaks in the 320 municipalities reviewed were the result of indoor spread of the disease, with the home accounting for 79.9% of cases, followed by transportation at 34%.
According to the authors,7 "All identified outbreaks of three or more cases occurred in an indoor environment, which confirms that sharing indoor space is a major SARS-CoV-2 infection risk." As noted in a May 11, 2020, American Thinker article:8
"Very likely, you already instinctively know that the guidelines suggesting that it's somehow helpful to keep a six-foot space between healthy people, even outdoors, is not based on science, but just an arbitrary suggestion we've been conditioned to accept without evidence.
And your gut feeling would be right. There's a reason that "social distancing 'wasn't a buzzword common to the American lexicon prior to 2020. There's very little science behind "social distancing' at all. 
'It turns out,' Julie Kelly writes9 at American Greatness, 'as I wrote10 last month, 'social distancing' is untested pseudoscience particularly as it relates to halting the transmission of the SARS-CoV-2 virus. On its website, the CDC provides no links to any peer-reviewed social distancing studies that bolster its official guidance.' There's a reason for the lack of peer-reviewed studies on the CDC website. She continues:
'The alarming reality is that social distancing never has been tested on a massive scale in the modern age; its current formula was conceived during George W. Bush's administration and met with much-deserved skepticism.
'People could not believe that the strategy would be effective or even feasible,' one scientist told11 the New York Times last month. A high school science project12 — no, I am not joking — added more weight to the concept.
'Social distancing' is very much a newfangled experiment, not settled science. And, Kelley writes, the results are suggesting that our 'Great Social Distancing Experiment of 2020' will be 'near the top of the list' of 'bad experiments gone horribly wrong.'"
Banning Outdoor Activities — A Disastrous Idea
In the video above, published May 11, 2020, on Medscape.com, Dr. JoAnn E. Manson, professor of medicine and chief of the division of preventive medicine at Harvard Medical School, discusses the protective role of vitamin D against COVID-19.
Manson points out that growing evidence suggests your vitamin D status may in fact play an important role in your risk of developing COVID-19, as well as the severity of the illness. It's well-known that vitamin D is important for innate immunity and that it boosts your immune function against viral diseases.
Importantly, as noted by Manson, vitamin D also has "an immune modulating effect and can lower inflammation, and this may be relevant to the respiratory response during COVID-19 and the cytokine storm that's been demonstrated."
Manson cites evidence from three South-Asian studies showing people with serious COVID-19 infection are far more likely to have insufficient levels of vitamin D compared to those with mild illness. Vitamin D deficient patients had, on average, an eightfold higher risk of serious COVID-19 illness compared to those with sufficient levels.
Harvard Medical School is starting a study to investigate whether vitamin D supplementation lowers the risk of COVID-19 specifically, and/or improves clinical outcomes, but in the meantime, Manson urges people to spend more time outdoors to improve their vitamin D levels through sun exposure, and to optimize their vitamin D levels through food and supplements.
Manson is far from alone in her recommendations. Irish researchers recently published an editorial13 highlighting the role of vitamin D deficiency in severe COVID-19 infections. According to the authors:14
"… the evidence supporting a protective effect of vitamin D against severe COVID‐19 disease is very suggestive, a substantial proportion of the population in the Northern Hemisphere will currently be vitamin D deficient, and supplements, for example, 1,000 international units (25 micrograms) per day are very safe.
It is time for governments to strengthen recommendations for vitamin D intake and supplementation, particularly when under lock‐down."
Low Vitamin D Linked to Greater SARS-CoV-2 Infection Risk
A May 6, 2020, report15 in the journal Nutrients points out that vitamin D concentrations are lower in patients with positive PCR (polymerase chain reaction) tests for SARS-CoV-2. As noted in this report, which retrospectively investigated the vitamin D levels obtained from a cohort of patients in Switzerland:16
"In this cohort, significantly lower 25(OH)D levels were found in PCR-positive for SARS-CoV-2 (median value 11.1 ng/mL) patients compared with negative patients (24.6 ng/mL); this was also confirmed by stratifying patients according to age >70 years. On the basis of this preliminary observation, vitamin D supplementation might be a useful measure to reduce the risk of infection."
Low Vitamin D Levels Linked to Increased COVID-19 Mortality
Another May 6, 2020, report,17 published in Aging Clinical and Experimental Research (its prepublication featured in the Daily Mail May 118), found that countries with lower vitamin D levels also have higher mortality rates from COVID-19. According to the authors:19
"The Seneca study showed a mean serum vitamin D level of 26 nmol/L in Spain, 28 nmol/L in Italy and 45 nmol/L in the Nordic countries, in older people. In Switzerland, mean vitamin D level is 23 nmol/L in nursing homes and in Italy 76% of women over 70 years of age have been found to have circulating levels below 30 nmol/L.
These are the countries with high number of cases of COVID-19 and the aging people is the group with the highest risk for morbidity and mortality with SARS-CoV2."
In the preprint version20 of this paper, the authors concluded: "We believe that we can advise vitamin D supplementation to protect against SARS-CoV2 infection." In the final version,21 they toned down the recommendation to: "We hypothesize that vitamin D may play a protective role for COVID-19."
GrassrootsHealth Study
Data22 from a clinical trial by GrassrootsHealth — an organization that we have supported for over 13 years — also reveals a link between vitamin D status and COVID-19 severity.
Mark Alipio — who received no funding for his work — released data from an analysis of 212 people with lab-confirmed COVID-19 and for whom serum 25(OH)D levels were available. Using a classification of symptoms based on previous research, he employed statistical analysis to compare the differences in clinical outcomes against the levels of vitamin D.
Of the 212 people, 49 had mild disease; 59 had ordinary disease; 56 were severe and 48 were critical. In the initial study group of 212 patients (see Table 1 below), 55 had normal vitamin D levels, which Alipio defined as greater than 30 ng/ml; 80 had insufficient levels of 21 to 29 ng/ml and 77 had deficient levels of less than 20 ng/ml.
Vitamin D levels were strongly correlated to the severity of the illness experienced. It is important to note that most experts consider 30 ng/ml half of what an optimum vitamin D level should be, which is 60 to 80 ng/ml.
Of the 49 with mild illness, 47 had normal vitamin D levels. For those of you who are not good with math that means that 96% of the patients with mild illness had "normal" levels of vitamin D. Note again this "normal" level was above 30 ng/mL, and most experts would raise that to 60 ng/mL.
Of the 104 with severe or critical illness, only four had normal levels of vitamin D. That is 4% or the reciprocal of the mild group. How much stronger a correlation could one hope for? Alipio concluded:23
"… this study provides substantial information to clinicians and health policy-makers. Vitamin D supplementation could possibly improve clinical outcomes of patients infected with Covid-2019 based on increasing odds ratio of having a mild outcome when serum (OH)D level increases."
Vitamin D Protects Against Viral Infections
Indeed, there is strong scientific evidence vitamin D plays a central role in your immune response and your ability to fight infections in general, so there's little reason to think it wouldn't provide similar protection against COVID-19.
In this video, Ivor Cummins, biochemist and chief program officer for Irish Heart Disease Awareness, explains how higher levels of vitamin D may reduce your risk of negative outcomes from COVID-19.
He also reviews some of the conditions associated with low vitamin D levels, such as insulin resistance and high levels of inflammation. As discussed in "The Real Pandemic Is Insulin Resistance," obesity, high blood pressure, diabetes and heart disease are comorbidities for severe COVID-19, and insulin resistance is the underlying problem in all of these.
As noted in "Vitamin D and the Antiviral State," a literature review article published in the Journal of Clinical Virology in 2011:24
"Interventional and observational epidemiological studies provide evidence that vitamin D deficiency may confer increased risk of influenza and respiratory tract infection. Vitamin D deficiency is also prevalent among patients with HIV infection.
Cell culture experiments support the thesis that vitamin D has direct anti-viral effects particularly against enveloped viruses. Though vitamin D's anti-viral mechanism has not been fully established, it may be linked to vitamin D's ability to up-regulate the anti-microbial peptides LL-37 and human beta defensin 2."
SARS-CoV-2 is an enveloped type of virus,25 which means vitamin D may actually have a direct antiviral effect on it. Future studies will have to confirm that, but in the meantime, there's absolutely no reason to ignore your vitamin D level. As reported in a recent GrassrootsHealth press release:26
"Vitamin D has several mechanisms that can reduce risk of infections. Important mechanisms regarding respiratory tract infections include:
inducing production of cathelicidins and defensins that can lower viral survival and replication rates as well as reduce risk of bacterial infection
reducing the cytokine storm that causes inflammation and damage to the lining of the lungs that can lead to pneumonia and acute respiratory distress syndrome
Vitamin D deficiency has been found to contribute to acute respiratory distress syndrome, a major cause of death associated with COVID-19 … To reduce risk of infection, it is recommended that people at risk of influenza and/or COVID-19 consider taking 10,000 IU/day (250 micrograms/day) of vitamin D for a few weeks to rapidly raise 25-hydroxyvitamin D [25(OH)D] concentrations, followed by at least 5000 IU/day.
The goal should be to raise 25(OH)D concentrations above 40-60 ng/ml (100-150 nmol/l), taking whatever is necessary for that individual to achieve and maintain that level. For treatment of people who become infected with COVID-19, higher vitamin D doses would be required to rapidly increase 25(OH)D concentrations."
Reproduced from original article:
www.naturalhealth365.com/bill-gates-vaccine-research-3413.html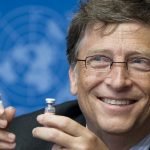 (NaturalHealth365) It's hard to imagine any billionaire being reckless with his money. Yet for some reason, Bill Gates says he's willing to throw billions of dollars at corona (CV) vaccine research even though many people believe it will be a complete waste of time and effort.
In a recent interview, Gates also let it slip that what CV vaccine researchers are pushing for is poised to harm hundreds of thousands of people – yet he still wants one available in less than a year and a half. All in the name of protecting public health, right?
ALL HANDS ON DECK: Bill Gates is pumping billions of dollars into vaccine research to "accelerate" drug development
The Bill & Melinda Gates Foundation says they want there to be a CV vaccine available to the masses within 12 to 18 months. Not suprisingly, Business Insider reports that Gates is funding the construction of at least seven different factories, each testing a different candidate for a novel CV vaccine.
Yet only one or two of these potential vaccine candidates will be selected for further development, while the other candidates – and the factories making them – will be abandoned. This means over 70 percent of his "investment" will be completely wasted.
Gates has said he's willing to take the hit on this since it will accelerate vaccine development. All that hurry and waste just to get a vaccine out on the market ASAP?  Let's stop for a moment to consider the skyrocketing unemployment rates and devastating insolvency that millions of people around the world are now facing because of state and federal responses to CV.
If Gates wants to use his tremendous resources to support the public good, you'd think there he could find a more efficient and effective way to do so, rather than building useless infrastructure.
Do NOT ignore the health dangers linked to toxic indoor air.  These chemicals – the 'off-gassing' of paints, mattresses, carpets and other home/office building materials – increase your risk of headaches, dementia, heart disease and cancer.
Get the BEST indoor air purification system – at the LOWEST price, exclusively for NaturalHealth365 readers.  I, personally use this system in my home AND office.  Click HERE to order now – before the sale ends.
JAW-DROPPING: Gates acknowledges even flu shots aren't effective for older adults and issues an (almost) unbelievable warning
Vaccines, of course, are not foolproof nor fully effective even when provided a more appropriate amount of time for research and development.
Gates admits as much in a recent interview with CNBC, where he bluntly states that even the seasonal "flu vaccine isn't that effective" in older people – the exact population of people who are targeted for the vaccine itself.
Gates also has some brazen things to say about the CV vaccine currently in the pipeline. View the video below to listen for yourself:
We have to ask ourselves
:Why does Bill Gates always have a habit of smiling when he talks about people getting hurt?
"We clearly need a vaccine that works in the upper age range because they're most at risk," Gates says. Because of this, he suggests the CV vaccine will need to be made more potent ("you have to amp it up") in order to work for older people – as well as, we presume, all the younger healthy people who will be told to take it, too. And because of this increase in potency, Gates casually estimates that at least 700,000 people will "suffer" from side effects of whatever vaccine gets created.
We know the CV vaccine is going to be propagandized as a "necessary" step in protecting the community and especially its most vulnerable people. Yet from the mouth of one of the loudest, most influential, and wealthiest drug pushers out there, we're now hearing confirmation that widespread health consequences are certain. All this for a drug that will be rapidly made and furiously pushed out onto the market.
Tell us again the level of cognitive dissonance required to tout this "solution" as safe and effective.
Sources for this article include:

Reproduced from original article:
https://articles.mercola.com/sites/articles/archive/2020/05/24/how-did-coronavirus-originate.aspx

Sorry, video not available on this site. To view video, go to original article above, or download video transcript
STORY AT-A-GLANCE
The manufactured anthrax crisis of 2001 initiated the PATRIOT Act, one of the most severe compromises of our personal freedoms up to that point. Now, the COVID-19 pandemic is being used to take away even more freedoms

It appears influential virologists are protecting the narrative that SARS-CoV-2 arose naturally, and did not originate from a lab in China or elsewhere, even though their scientific justification for that conclusion is faulty

Strong evidence suggests SARS-CoV-2 cannot be the result of a natural mutation

The National Institutes of Allergy and Infectious Diseases (NIAID), under Dr. Anthony Fauci's leadership, has funded gain-of-function research on coronaviruses for about two decades

Efforts to develop coronavirus vaccines have failed for two decades, as the vaccines tend to cause paradoxical immune enhancement resulting in damaging and lethal cytokine storms
Dr. Meryl Nass is a physician in Ellsworth, Maine, who in previous interviews has helped us understand the unforeseen consequences of mass vaccination — consequences that could end up impacting public health in a very negative way. Here, she discusses what she's been working on for decades, and how it relates to this current pandemic.
An outspoken supporter of health freedom, Nass provided scientifically referenced testimony to the Massachusetts legislature, December 3, 2019, when it was considering legislation to eliminate the religious vaccine exemption. This is now more relevant than ever, considering there is talk, worldwide, about implementing more or less mandatory vaccination against COVID-19. In her December 2019 testimony, Nass pointed out that:1
"There is no crisis (no epidemic of deaths or disabilities) from infectious diseases caused by lack of vaccinations … The elephant in the auditorium today is Pharma profits …
The pharmaceutical industry has undertaken a very ambitious campaign to legislate away vaccine exemptions in the United States and Canada. France, Italy and Germany have rescinded vaccine exemptions too, suggesting the campaign is worldwide …
It has been claimed that vaccines are, by nature, extremely safe. Yet vaccines are usually injected, bypassing all the body's natural barriers. Even minute contamination or inadequate microbial inactivation can maim or kill … Vaccines have caused many autoimmune disorders, from Guillain-Barre syndrome to narcolepsy …
Vaccines appear safe because the immediate side effects are usually mild and temporary. Serious vaccine side effects often take weeks or months to surface, and by then it is difficult to know what caused them …
A 2009 European swine flu vaccine (GSK's Pandemrix) caused over 1,300 cases of severe narcolepsy, mostly in adolescents. This vaccine was linked to narcolepsy because 15 times the usual number of narcolepsy cases suddenly appeared in clinics …
It should be apparent, but isn't: Government waivers of vaccine liability discourage manufacturers from ensuring that the vaccines they sell are as safe and effective as possible.
The removal of vaccine exemptions, combined with liability waivers for vaccine side effects and recently loosened standards for licensing vaccines, create a highly toxic mix."
Nass goes on to cite statistics showing why the claim that draconian laws are required to control the "crisis" of vaccine-preventable diseases is false. She also points out that:
"The bedrock expectation of medical ethics is that patients must give informed consent2 for all medical procedures, including vaccines. Informed consent means that patients must be informed about the procedure, have the right to refuse, and may not be coerced to accept it.
Isn't withholding an education an extreme form of coercion? Without any discussion of its moral or ethical dimensions by media, medical societies or government officials, the requirement for informed consent for medical procedures, including vaccinations, vanishes in the blink of an eye when patients are not allowed the right to refuse."
Anthrax
In 1992, Nass published a paper3 identifying the 1978-1980 Zimbabwe anthrax outbreak as a case of biological warfare. In 2011, I also interviewed her about the 2001 false flag anthrax attack in the U.S., on the heels of 9/11, and the dangers of the anthrax vaccine.
That manufactured crisis initiated the PATRIOT Act, one of the most severe compromises of our personal freedoms up to that point. Now, it appears they're using the COVID-19 pandemic to take away even more freedoms.
There's strong evidence that this is precisely what's going on. Early in the interview, Nass summarizes our earlier discussion about the anthrax attack, so for a refresher, listen to the interview or read through the transcript. That attack, however, is also what allowed government funds to be allocated toward even more biological warfare research. She explains:
"Congress appropriated a lot of money for bio-terrorism, which is conjoined with pandemic planning. So, the same pot of money that goes into pandemics goes into Biological Defense. Much of it is duly used for research performed in high containment, BSL-3 and BSL-4 labs.
We don't call it biological warfare, but when you're designing pathogens to be more virulent than the originals in nature … essentially biological warfare research gets done. Things are called biological warfare if the intent is to create a weapon. It's called biological defense if the intent is to design a bad bug so you can come up with defenses against that bug.
What has happened is that a lot of money was spent to develop new high containment labs — many, many more high containment labs … about $6.5 billion a year since 2001 has been designated for this biodefense. So, what we wound up with is hundreds of biodefense labs that have to be used and thousands, possibly 15,000, newly trained bio-defense researchers.
So, now we have cadres of people who are experts in coronaviruses or avian flu viruses, Ebola, Lassa, et cetera. And what most of that money … has been spent on, has been researching these pathogens. Even though the money was supposed to be spent on developing countermeasures and stockpiling countermeasures, to a great extent that did not happen …
As a result, we know a lot about highly virulent coronaviruses that have been created in labs around the world as well as in the U.S. and China, and we have absolutely no countermeasures that have been developed for coronavirus."
Where Did SARS-CoV-2 Originate?
"Like everybody else, I wondered whether this was a natural jump from a bat or some other animal to humans and scratched my head about it," Nass says. While she's not a virologist, she does have a three-decade background in biological warfare and is aware of what's been created in the past, what it takes, where they may be made, and how it has been done.
"So, I remained curious. Then on February 19 online, and in the March 7 print edition, a group of scientists had a "Correspondence" published in The Lancet, and it was a very curious piece to me. It didn't make sense.
And these were very prominent signatories, including the former head of the National Science Foundation, one of the former top people at CDC, the director of the Wellcome Trust, coronavirus researchers and funders, and other prominent people.
What they said is, 'We need to quash the rumors that this came from a lab. That is a conspiracy theory and we need to get rid of it. They wrote:
'The rapid, open, and transparent sharing of data on this outbreak is now being threatened by rumours and misinformation around its origins. We stand together to strongly condemn conspiracy theories suggesting that COVID-19 does not have a natural origin.' 4
So, what this group was doing, in a very short, less than a page-long letter, was calling the possibility that SARS-2 might have come from a lab a conspiracy theory, and conflating any consideration of this possibility with threatening "transparent sharing of data" with China. And we couldn't interfere with that because we need to work with China to fight the coronavirus …
A couple of weeks later, an article came out in Nature Medicine, which said, 'Here we have the scientific proof that this did not come from a lab' …
And this second paper talked about the two things that have been identified by others as the most problematic new genetic segments on SARS-CoV-2 — two sites on the spike RNA, which seem to enhance the tropism and the binding/entry, so it makes it easier for the virus to get into human cells and expands the range of cell types the virus can enter.
And the Nature Medicine authors took these two regions and said: 'Look, these mutations that are found in the new CoV-2 virus, which are not seen in any of the other coronaviruses anywhere near it genetically, must have come from the wild because these weren't created in the ways that we virologists would have chosen to create them.'
They said, 'We already have ways to create these mutations that would leave a lab signature, but there is no lab signature. And furthermore, we decided that based on computer modeling, the receptor binding domain did not use the ideal formulation we predicted. If a geneticist, a virologist, was doing this, they would have used our computer model. They didn't, and therefore this must have come from the wild.'
Well, that was a really odd argument because it didn't make any scientific sense. The authors did a lot of hand-waving, but failed to consider that other techniques could have been used to create this virus. Nor did the authors explain how such a virus, so ideally adapted to humans, could have developed in wildlife.
We should understand that those were two highly virulent and surprising mutations that could well have been added to a preexisting coronavirus, by a variety of techniques, including the old passage technique, still used today, which is what Louis Pasteur used to create the first live, attenuated rabies vaccine in 1885.
If you passage a virus through multiple human tissue cultures, or mice that contain, for example, humanized lung tissue, you force the virus to develop mutations that adapt it better and better to the new tissue. If the current coronavirus, as claimed by some scientists and seems borne out clinically, is better adapted to binding to the human ACE-2 receptor than to all known animal ACE-2 receptors, then it either:
1) mutated that way by jumping from wildlife to humans long ago, subsequently optimizing its ACE-2 receptor for humans over a prolonged period of time, or
2) was genetically engineered in a lab to do so, or
3) was passaged through cells with human ACE-2 receptors in order to accumulate the mutations that made it most virulent to humans. 
I believe the same argument holds for the second unique coronavirus mutation, the addition of four amino acids to form a furin (polybasic) cleavage site. This site takes advantage of the human furin enzyme present intra- and extracellularly, which enhances viral entry into human cells and might convey other advantages to the virus.
There is absolutely no evidence to support the first hypothesis, that this virus has been circulating in humans for years. Thus, we are left with hypotheses 2 and 3: Each requires the human hand, only differing by the technique used. In my opinion, it is likely that both techniques (genetic engineering and serial passage) were used to produce the SARS-2 coronavirus, or its laboratory progenitors."
We Absolutely Have the Know-How to Create SARS-CoV-2
Nass countered Nature Medicine's narrative in a March 26, 2020, blog post,5 and again in an April 2, 2020, post, in which she wrote:6
"Why are some of the U.S.' top scientists making a specious argument about the natural origin of SARS-CoV-2? … Prior to genetic engineering techniques being developed (1973) and widely used (since late 1970s), more 'primitive' means of causing mutations, with the intention of developing biological weapons, were employed …
They resulted in biological weapons that were tested, well-described, and in some cases, used … These methods can result in biowarfare agents that lack the identifiable signature of a microbial agent constructed in a lab from known RNA or DNA sequences.
In fact, it would be desirable to produce such agents, since it would be difficult to prove they were deliberately constructed in a lab. Here are just a few possibilities for how one might create new, virulent mutants:
Exposing microorganisms to chemical or radiological agents that cause high mutation rates and selecting for desired characteristics
Passaging virus through a number of lab animals or tissue cultures
Mixing viruses together and seeking recombinants with a new mix of virulence factors"
Why Is Protecting the Narrative so Important?
Nass believes the old technique of passage is a likely candidate here. According to Nass, if you take viruses that are ill adapted to the human ACE-2 receptor but are adapted to another animal's ACE-2 inhibitor, and then passage them in human tissue culture with the human ACE-2 receptor, over time, the viruses will develop improved receptor binding.
"It's a likely way that this coronavirus might have been produced," she says. "Anyway, I read that article and I said, 'This is complete nonsense. I can't believe Nature Medicine published it.' And the two groups of authors, the group from The Lancet and the group from Nature Medicine, have consistently referred to each other as they've been interviewed since.
Science Magazine did a short piece on The Lancet article. USA Today did a piece on the Nature of Medicine article. And then the head of the National Institutes of Health, Dr. Francis Collins, Tony Fauci's boss, wrote a blog post (or somebody wrote it for him) about the spurious Nature Medicine article.
He stated, 'Now we have the scientific answer. This article in Nature Medicine has put to rest any thoughts that this could be a lab construct. That's a conspiracy theory. We have no room for conspiracy theories. This is the end of the discussion' …
Now, the first thing I thought about the Nature Medicine article was, 'Did these authors actually write it?' Because it's such a piece of scientific nonsense than any real scientist reading it, if you can read the language, would not accept it, would dismiss it out of hand. Many other scientists have said exactly this, subsequently.
So, were the Nature Medicine authors asked to place their names on a piece of junk science in order to get it into a high impact journal and create this smoke screen — that "the science proves" (but only to the scientifically illiterate) this is a naturally occurring coronavirus?
There were five authors. I know of a couple of them. One was a virologist named Robert Garry, who I have had some interactions with over the last 22 years, another one was Ian Lipkin. Garry and coauthor Kristian Andersen both worked in Sierra Leone during the Ebola epidemic. 
Garry was principal investigator for a project in Kenema, Sierra Leone before the outbreak started. Ian Lipkin's group at Columbia University claimed, just last year, to have finally found a bat in west Africa carrying Ebola virus; in other words, this Nature Medicine coauthor's group produced the long-sought evidence for a natural origin of west Africa's Ebola epidemic.7
I happened to show the Nature Medicine article to a friend of mine, Ed Hooper, who wrote a well-known book called, 'The River,' about the origin of AIDS: How did AIDS jump from monkeys into the human population?
Although many claim that it's due to Africans eating bush meat (from monkeys), Ed makes a very strong case that HIV made the species jump via oral polio vaccines that were prepared locally, in the Belgian Congo, from the kidneys of various types of monkeys that were locally caught. The vaccine was designed by Hilary Koprowski in the U.S., and given to millions of Africans.
Ed Hooper has put out additional evidence in the intervening 20-plus years since he wrote 'The River,' that it's much more likely that the jump into humans occurred because the oral polio vaccine grown on monkey kidneys was contaminated by monkey viruses, and that those monkey kidneys probably contained the precursor to HIV.
Interestingly, three of these Nature Medicine authors had challenged him on his AIDS origin theory about two decades ago, and now they're challenging the coronavirus origin theory, which made me wonder, 'Are these five Nature Medicine authors … repeatedly trotted out by the political medical establishment to try to push false narratives that are politically desirable?"
Compelling Evidence SARS-CoV-2 Is a Lab Creation
May 19, 2020, I reviewed evidence presented in a Medium article8 written by Yuri Deigin, as well as a video presentation of this evidence done by Chris Martenson, Ph.D. If you missed "The Smoking Gun Proving SARS-CoV-2 Is an Engineered Virus," you may want to review it after you're done with Nass' interview.
Both sources go into great scientific depth, explaining why SARS-CoV-2 cannot be the result of a natural mutation. Deigin doesn't actually suggest that it is manmade, but provides strong evidence that one needs to consider before coming to the conclusion that it's of natural origin. Nass comments on Deigin's work:
"[Deigin] did his own research and published a massive discussion of all the coronavirus research that has gone on since 1999 that is relevant to SARS-CoV-2, and he particularly discusses these two mutations: One, the furin cleavage site and the other is the receptor binding area.
He talks about all the research that's been done on coronaviruses, the different ways you can make these changes, and how changes like what we're seeing now have in fact been created by coronavirus researchers over the past 20 years. And he analyzes everything very, very finely. It's like Ed Hooper's book. He goes in and out and around and discusses every aspect.
When you finish reading that article, you are convinced that it's almost certain that these two mutations were put there deliberately.
Whether they were done by passage, whether they were done by CRISPR or whether another method was used, scientists did know the implications, in terms of increasing virulence, of both of these mutations. So, I invite you to read that piece."
Many Nations Funded 'Gain of Function' Coronavirus Research
We now know that the National Institutes of Health, under Fauci's leadership, funded gain-of-function research, or research on how to increase the virulence of pathogens, with coronaviruses for about two decades.
When the White House temporarily suspended U.S. government funding for that kind of research for MERS, SARS and avian flu in 2014, some work may have shifted over to the Wuhan Virology Institute in China and continued anyway. Other similar research, such as Ralph Baric's at UNC, was given special permission to continue despite the temporary suspension. The funding ban was lifted in 2017. Nass weighs in:
"Coronavirus research, including gain-of-function research over the last 20 years, has been done in many countries in Europe, in many labs in the U.S., in Japan, Singapore, China, Australia and probably other places. And it has often been funded by multiple countries.
So, funders have included the Australian government, different branches of NIH, but primarily Fauci's NIAID, the National Science Foundation and USAID — surprising because you would think USAID is an aid agency.
There have also been organizations like the EcoHealth Alliance, which have served as pass-throughs for the funding. The NIAID or USAID would give money to the EcoHealth Alliance and then EcoHealth Alliance would dole it out to the BSL-4 lab in Wuhan and other places and would participate with them in research.
Most of the most prominent researchers have worked in multiple countries' labs, along with foreign colleagues. It's very complicated. There's a lot of back and forth. Europe has funded this research too.
So, Dr. Zhengli Shi has worked in the United States and our researchers have worked in China. Nature Medicine coauthor Ian Lipkin has a post in China, and he was an expert who advised the Saudis on MERS, which is a cousin of SARS, and advised the Chinese on the 2003 SARS. He is affiliated with EcoHealth Alliance too.
He was over in China at the beginning of this SARS-2 pandemic. Ed Holmes, a coauthor of the Nature Medicine article, is an evolutionary biologist at Sydney University who also holds a position in China. So, these people work together, and … the Chinese, the Australians, the Europeans and the Americans fund all this work … Some of this research is funded by five different institutes from three or four different countries.
Gain-of-function research has been controversial since it started being openly discussed. In 2014, in the United States, there was a pause on U.S. government funding of gain-of-function research, but only for three organisms: MERS, SARS and avian flu.
Probably this occurred because researchers announced success in creating lethal avian flu viruses that had gained the ability to spread via aerosol. And because, at the same time, there was widespread media reporting on lab accidents in the U.S., especially at CDC's, NIH's and the Army's high containment labs. These accidents had exposed workers at CDC and over 100 other labs to live anthrax spores and live avian flu.
There was a lot of controversy in the scientific literature over gain-of-function. However, even though about 20 research projects were initially paused in 2014, seven were given special permission to continue. Here is what U.S. government scientists wrote about this in 2015:
'The recent safety lapses at the Centers for Disease Control and Prevention and the NIH that could have resulted in exposure to anthrax and smallpox, respectively, have diminished public confidence in the ability of even high-containment laboratories to mitigate the risk of accidental release of pathogens of potential harm … public tolerance of that risk may be the ultimate determinant of what types of research are allowed to proceed.
… 'As recent lapses at high profile laboratories have illustrated, there remains the potential that bacterial and viral strains can escape even the most secure environments.'9
At the end of 2017, the pause was removed, new guidelines were issued but not made mandatory, and everybody was allowed to go back and do whatever gain-of-function research they wanted."
Nass on Mikovits Retrovirus Hypothesis
I recently interviewed Judy Mikovits, Ph.D., a cellular and molecular biologist who suspects SARS-CoV-2 isn't the actual or sole cause of COVID-19. Rather, she believes the illness is a coinfection of SARS-CoV-2 with a preexisting XMRV gamma retrovirus infection.
One possibility she has raised is that SARS-CoV-2 activates this underlying, latent infection. She supports this thesis with the fact that the cytokine storm signature of COVID-19 is inconsistent with coronavirus, but very consistent with the gamma retrovirus infections she studied.
"What she says is very interesting," Nass says. "Some of it I think is incorrect and some of it is correct, and there's so much of it that it's very hard to separate … Even though she says coronaviruses don't do X, Y and Z, this is a very new coronavirus. It has some unique features.
What we've talked about so far is only relevant to the spike protein, which is only 13% of the genome. We haven't even begun to explore changes that may have occurred in the rest of the genome. So, I don't think we have the evidence yet to say that this coronavirus alone can't do what it seems to be doing …
Some people are saying there are two, three or four small, six to 10 amino acid segments that look like bits of HIV, and they're inserted in different places. They may have effects on the immune response. I don't know. I think that information will gradually appear … I think I've got to read her book ['Plague of Corruption'] … and see what the data show …
In my own research, I have found Anthony Fauci to be a hypocritical fraud, who pretends he knows nothing about coronaviruses, [yet] he's funded over $100 million of coronavirus research out of NIAID. He looks so gentle and he doesn't give you any details about anything, but he knows a lot of details. So, I hope she confirms my suspicions about Fauci."
Potential COVID-19 Vaccine Dangers
As discussed in "Fast-Tracked COVID-19 Vaccine — What Could Go Wrong?" COVID-19 vaccines are being fast-tracked, eliminating animal trials and going straight to human trials.
Speaking of Fauci, Moderna was granted a fast-track designation for its mRNA-1273 vaccine by the FDA on May 12, 2020.10,11 This vaccine is sponsored by Fauci's NIAID, who, echoing Bill Gates' edicts, has been calling for social distancing and other lockdown measures until a vaccine becomes available. Moderna is currently preparing to enter Phase 2 trials. No results from Phase 1 have been published as of this writing.
"They're doing human trials of at least two vaccines in the U.S. now. So, I'll tell you what I know. First of all, the Moderna is an mRNA vaccine. We haven't had an mRNA vaccine before, so we don't know what that's going to do in people.
Therefore, it seems unconscionable to give it to people before you test it in animals, so that you can at least have some idea what the side effects might be …
There [have also been] many [experimental coronavirus vaccines in the past], not just the trials at Galveston with Peter Hotez, where four different types of vaccines against coronaviruses all failed. There have been other vaccine platforms attempted for coronaviruses that also failed."
In one such study, discussed in my recent interview above with Robert Kennedy Jr., ferrets showed an extraordinary good serological antibody response to the vaccine, but when the animals were then exposed to the wild virus, they were overtaken by a cytokine storm response, now known as "paradoxical immune enhancement." In at least one trial, all the ferrets died.
"Hotez [has stated that] in their animal experiments, the vaccinated animals fared worse when they were exposed to the disease than if they had not gotten the vaccine," Nass says.
"[In] experiments done in the 1960s, an RSV (respiratory syncytial virus) vaccine [Editor's note: RSV is similar to coronavirus] … was given to children. Several of the children died — again, with this same cytokine storm problem arising. So, I think this is a vaccine you should tread very lightly with, and it should never have been given to people before it was given to animals."
COVID-19 Vaccine — Global Experiment Without Precedent
Nass also addresses the issue of how human trials are done, and warns people about joining them without being fully informed about the potential risks. This is particularly pertinent for COVID-19 vaccine trials, considering the lethal failures of such vaccines in the past.
You also need to understand that when you participate in a trial, you are not eligible to receive compensation for any injuries you sustain. As for taking the vaccine once it becomes publicly available, Nass says:
"I'll just point out that Ralph Baric, the top coronavirus researcher in the United States, at the University of North Carolina, said himself in an interview a couple months ago that vaccines aren't going to work in the older population for which this disease is most risky …
Having dealt with many people who've died or developed chronic illnesses, all sorts of terrible complications from anthrax vaccine and smallpox vaccine, and sometimes other vaccines, I try to do a careful risk-benefit analysis before recommending a vaccine to any patient.
Sometimes I think it makes sense for people to be vaccinated, but their own situation, where they live, their age group, who they're exposed to, where they're traveling to are all important factors that would help you to formulate that risk-benefit assessment. And I don't think vaccines should be looked on as risk-free. They're clearly not risk-free. Medical interventions should be done thoughtfully …
Another problem … on the FDA website,12,13 there is a page that talks about the problem of growing vaccines in cells14 that may have oncogenes or cancer causing viruses in them, and what research FDA is trying to do to deal with this. So, the FDA acknowledges this serious potential risk from some vaccines… on the FDA website."
Level 3 and 4 Biosafety Labs Pose Severe Risk to Human Health
The map below was published in the journal Science15 in 2007 and reprinted in Asia Times16 April 6, 2020, showing the proliferation of high-containment labs in the U.S. A USA Today investigation published in 2015 put the number of BSL 3 and 4 labs in the U.S. around 200,17 and Boyle estimates there are about 400 worldwide.18
In closing, Nass points out there have been many accidental leaks from BSL 3 and 4 labs, causing many deaths. Improperly inactivated vaccines have also claimed many lives.
"Thirty years ago when I was writing papers about the potential risks of biological defense research we had a lot less biological defense research going on. And the risks were significant. Everybody agrees that these labs leak.
I told you there were maybe 600 or more BSL-3s in the United States19 and hundreds of others around the world. There are about 200 reports of lab accidents, mostly exposures of lab personnel to pathogens, in the high-containment labs in the U.S., yearly.20
So, let me actually give you a few examples from a paper by Martin Furmanski, a physician who wrote about lab escapes.21
He pointed out a lab in England. There were several smallpox escapes from that lab to a room below. Two people died. After the second escape happened, I think it was around 1980, the lab director killed himself.
There were huge outbreaks of Venezuelan equine encephalitis. Thousands and thousands of animals and people [were affected] in Latin America, and it turned out to be due to improperly inactivated vaccines. So, the disease they were vaccinating all these livestock for was actually giving them the disease and giving it to humans also. You don't hear about that.
He points out that the worldwide 1977 H1N1 outbreak … started in China or Russia, probably from long-frozen virus that had been thawed, because that particular strain, H1N1, had not circulated in the world for 21 years, and genetically it looked almost identical to the strains that were around in the late '40s and 1950s, early '50s. So that worldwide 1977 flu pandemic was due to a lab escape. 
And Furmanski postulates that the reason the virus was thawed was to do vaccine research because of the fear, in the U.S. in 1976-77, that a deadly swine influenza pandemic might occur … leading to a self-fulfilling prophecy. But fortunately, the virus that circulated was much less deadly than the feared 1918 strain.
[The U.S. government] began a swine flu vaccine program in 1976 after one soldier died at Fort Dix in 1976 of a unique swine flu strain. Frightened that a scenario like the 1918 flu pandemic might emerge, the United States public health agencies got together with the U.S. vaccine manufacturers to create, very rapidly, a swine flu vaccine to save the United States. It was an abysmal failure.
As things progressed, the manufacturers refused to produce vaccine unless the government gave them a waiver of liability for possible vaccine injuries. This they received.
First of all, there was no outbreak. The virus had stopped circulating and disappeared. Had the people at the CDC and HHS been honest with the American public, they would have told them, 'Hey, there's no outbreak. We're just going to cancel the vaccine program. We don't need it.' But the vaccine program had developed a life of its own.
Harvey Fineberg co-authored a wonderful book ['The Swine Flu Affair: Decision-Making on a Slippery Slope'22,23] about the vaccine program, for the National Academy of Sciences, which the subsequent DHHS (then HEW) Secretary, Joseph Califano, had requested.
I recommend it. It's a fabulous read because Fineberg was working under the Secretary of Health and Human Services, so he was able to interview everybody involved in government who had been part of the program.
He tells you the inside story of what went on during that year. All the infighting, all the different reasons why a vaccine was made for a disease that didn't exist. And then, [after the vaccine was] given to 45 million Americans, [it was] found to cause Guillain-Barre syndrome, about 30 people died and 4,000 people applied for damages from the federal government.
This was the first time the government gave a liability waiver to vaccine manufacturers. And I think it was what gave them the idea that in the future they could get liability waivers for all their vaccines."
You can download a free PDF copy of "The Swine Flu Affair" on The National Academies of Sciences website.24 You can also learn more about the failed 1977 swine flu vaccination campaign in "How Does COVID-19 Compare to Spanish Flu?"